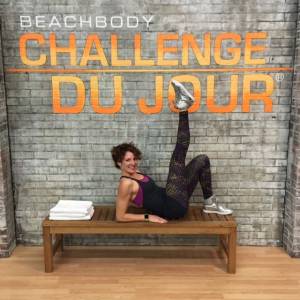 Becky's language in life has always been about movement. She grew up playing sports, and later developed a love for dance in high school. She found her voice and pursued an education in the study of movement, graduating with a BS in Kinesiology. But as we know, life can take you down several unexpected roads, so Becky eventually hung up her dance sneakers and followed a different path. Heading into her early thirties with two children under the age of 4 and not much of a personal life, Becky decided to dust off her sneakers and walk back into the local gym. "Honestly, I had no idea where to start—[thankfully] the gym would watch my children for a couple hours so I randomly walked into the group fitness room with no expectations other than to be around actual adults and listen to songs that were not Kidz Bop versions!" Becky tells us.
"Holy sneakers! I walked into a PiYo LIVE class with none other than Melissa McAllister as the Instructor, and felt ALIVE for the first time in years." By the Flow section of class, Becky was a blubbering mess in the back right corner. She knew immediately, "THIS is where I need to be." So she just kept showing up, eventually moving from the back right corner to the front left corner, right by the Instructor. Then the day came when the Instructor turned to me and said, "Why aren't you teaching this class?"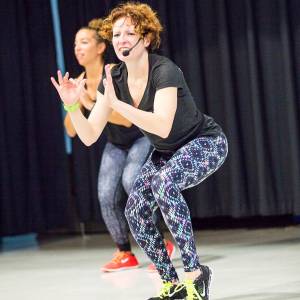 The suburban mom who had two kids, who never had matching shoes, and whose friends laughed at her because she was the "hot mess" of the group was about
to channel her passion into something greater. "Melissa saw something in me that I did not know was there anymore. I had been an educator before and I could do it again!" Becky signed up for her first Beachbody® LIVE Instructor Training, and the rest is just a story of hard work, persistence, and practice. Within a year of being certified, Becky taught 12 classes per week—a combination of PiYo® LIVE, INSANITY® LIVE, and Turbo Kick® LIVE. "My fire and passion had never shined brighter. I found my purpose and have held on tight!" she tells us.
The Beachbody LIVE formats are Becky's favorite because of the variety each brand offers and the quality of each product. Every format is created with safe, effective movement in mind. The music is current and matches movement so the class maintains a nice flow. New [PRO Team] Rounds are constantly being released which means the classes never feel stale or boring. And because Becky does not have to spend her precious "mom and wife" time creating new content, she can be present in both her classes and at home!
"The most important information I can impart on my Instructors is that our job is about others!" she says. "We should touch the hearts of the people in the room and be engaged in their journeys. Watching new people enter your classroom as 'shells' of humans and being there as they find themselves again, as they start to look others in the eye, as they start to occupy space and hold their shoulders high—that is why we do what we do! The world needs more love, light, and laughter!"
Becky is currently a Master Trainer for PiYo LIVE, Country Heat™ LIVE, INSANITY LIVE, and CIZE® LIVE, in addition to being an ACE Certified Group Fitness Instructor. Are you passionate about fitness and teaching? Are you ready to help others on their professional paths to becoming Beachbody LIVE Instructors? Then you just might be our next Master Trainer in the making! We're accepting video submissions and holding audition events across the country.