Committed to getting on a regular gym schedule? Employ the Boy Scout method and always show up prepared so you'll never have an excuse to miss a session—whether that's your favorite group fitness classes or your weight room routine. A well-stocked gym bag with the right workout accessories can help you battle locker room germs, post-workout energy crashes, and even mishaps on the workout floor. We asked a few personal training pros what to stock up on. Beyond the usual essentials, here are their favorite workout accessories. Stash them in your gym bag and reap their fit benefits.
1. Antibacterial Spray
You probably already douse your hands with germ-fighting gels, but your gym bag can harbor all kinds of icky pathogens. If it can't be laundered (and many can't) opt for a regular spritzing of a product rated by the EPA to sanitize surfaces, such as good old Lysol or Clear Gear Disinfectant Sports Spray. Preventative, sure, but It's one of the most useful workout accessories your money can buy.
2. A Laundry Bag
Sick of segregating your soggy clothing with a plastic grocery bag? Try a reusable fabric one (like this pick from Eagle Creek) instead. "I don't use plastic because the clothes can start to mildew—gross!" says Rachele Marsh, a fitness expert and founder of Rachele Marsh Private Training in Newport Beach, CA.



3. Shower Flip-Flops
"After a particularly tough workout, I realized I'd forgotten shower footwear," says Tangia Renee Estrada, personal trainer and creator of Hello Gorgeous Fitness. "Not taking a shower was out the question, but the whole time I couldn't stop thinking about the germ pool I was standing in!" Sidestep athlete's foot and plantar warts (literally) with some waterproof shoes. Showaflops shoes have drain holes and are treated with an antimicrobial coating for added protection.
4. Dry Shampoo
When your personal training session goes long (or your workout window was tight to begin with) and you can't fit in washing, drying, and styling your hair, a little powder action can get you out the door fast. "I call Oribe Dry Texturizing Spray 'hair crack' because it dries out the oil and sweat in my hair and makes it fluffier—it's addictive," says personal trainer Jacqueline Kelly, founder of Kelly Performance and Wellness. Who says workout accessories can't also have beauty bonuses?
5. Shower Wipes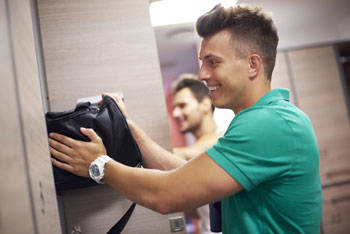 For the rest of your bod, freshen up with specially designed wipes like odor-busting GoodWipes, which whisk off bacteria and sweat to leave you feeling—and more importantly, smelling—clean. "If I've been working out in shoes for several hours, I might use antiseptic wipes on my feet, too, so that they don't smell," says Marsh.
6. Whole Food Snacks
There's nothing worse than feeling famished post-workout and not having the right healthy options to keep you going. Nutritionists generally agree that it's best to get your nourishment from non-processed foods, so stock up on nuts or nut butters (Justin's makes them in single-serve packets), whole fruit, and no-sulfite meat jerkies like Krave Jerky, which provide energy and replenishment on-the-go and won't spoil in your bag alongside your other workout accessories.
7. Electrolyte Replenishment
During a super intense workout, you can sweat up to two liters of water! Know what else goes with it? Important minerals, which is why perspiration is salty. "When your body loses electrolytes you can end up with low energy and cramps," says personal trainer Franklin Antoian, founder of iBodyFit.com. Pack your bag with single-serve electrolyte packets (like Beachbody Performance Hydrate packets) to keep your endurance up.
8. Sport Buds
For lots of people, a workout without a soundtrack is like Christmas without Santa: there's no magic. Do away with tangling cords and earpieces that slip once and for all with Bluetooth-enabled sport headphones like the X2 from Jaybird. These have the added benefit of secure flaps for a tight fit.
9. A Better Bottle
It's a hydration essential, but water bottles can be a pain to carry. Anti-Bottles from Vapur solve that problem by completely flattening when empty, so they can be stashed away easily in your bag or even a pocket. Workout accessories that are mobile-friendly? Sign us up.
10. Grip Pads
Free weights can be tough to grasp in sweaty hands, and not everyone considers callouses a badge of hardcore honor. Workout gloves are one option, but because they're often leather, they're hard to clean. Grip pads, however, are made of neoprene, and—like all great workout accessories—can easily be washed and disinfected.
11. Portable Recovery Tools
You probably know about the benefits of foam rollers, which provide important post-workout stretching and massaging, but for recovery on the go try throwing a small ball in your bag. "I have three lacrosse balls in my bag, a single and two taped together for self-myofascial release work," says Mitch Lappo, coach and co-owner of TriumFit Athletics in Ventura, CA. Put the ball (or balls) on the floor, or pin them between your body and a wall and really dig into tight spots in your shoulders, back, glutes, and legs.