Your love for yoga may have come naturally — and immediately. But becoming a yoga instructor takes time and practice. Here's what you need to know to get your yoga instructor certification and to start teaching.
For some people, their first experience with yoga is an epiphany — the first step on a journey that'll last the rest of their lives. So it's only natural to want to share that experience with others by becoming a teacher. But how do you go from being a student to an instructor?
The short answer: Practice and dedication. (And a healthy understanding that you probably won't be joining the 1 percent any time soon.) "It's a good idea to practice yoga for at least a year [before you make your decision]," says Andrew Tanner, chief ambassador of Yoga Alliance, a national yoga accreditation organization in the United States.



As your knowledge of yoga deepens, so does your understanding of yourself. (Besides, even if you don't decide to become a teacher after all, "You'll never regret taking the time to do more yoga," says Tanner.) And if you do decide to become a yoga instructor (or even get your Piyo certification)? Well, you'll get to spend the rest of your life doing what you love.
Step 1: Find a mentor. Finding an instructor that can teach and inspire you is the number one thing you can do to become a teacher yourself, says Kristin McGee, a well-known yoga instructor in New York City. McGee started practicing yoga in the 1990s and studied under Cyndi Lee, when, as she says, "It was still a fringe movement."
In the East, yoga was meant to be studied one-on-one, says Tanner. Plus, receiving personalized instruction helps you learn intermediate and advanced techniques that aren't always taught in group classes.
Step 2: Get Educated. Although there's no standardized yoga license in the United States, you have many options that will allow you to become an expert. Whether it's joining a workshop to teach PIYO, or earning a certification from a Yoga Alliance teacher-training program will help you land teaching gigs at studios. (You can find a list of registered schools and registered teachers on their website.) McGee compares it to a business degree: "You have people who go for their MBAs and they always have that knowledge, but you also have billionaire entrepreneurs who've never finished college."
But beware of the price to certain options. PIYO is designed to have you in-class and working with group classes quickly. Comparatively, registered yoga teachers (RYT) have to complete a minimum of 200 hours of training to become certified with Yoga Alliance; afterward, they'll earn their RYT-200 certification. From there, you can earn an RYT-500 (yep — you'll need to do an additional 300 hours of training) or an "experienced" certification called an E-RYT, which requires an extra 1,000 hours of teaching. Becoming certified isn't cheap, either — sometimes the final bill can be upwards of $3,000, says McGee.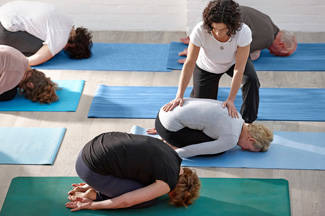 Step 3: Learn anatomy. There's no understating the importance of body positioning in yoga. McGee also recommends people take workshops or read books like Ray Long's The Key Muscles of Yoga.
Anatomy is especially important for yoga teachers, who have to be able to articulate which muscles should be engaged or relaxed, and when. "You have to be able to break things down in laymen's terms, either by using imagery or something else," she says. "And a lot of it is learned on the job." But beyond the basics, plenty of students also need to know how to modify poses, says McGee, especially if they've had past injuries, have arthritis, or are pregnant.
Step 4: Get on Instagram. This might not come as a surprise any of the 1.9 million people who follow Rachel Brathen (Yoga Girl) on Instagram. But really, it's one of the best social media platforms to show off what you can do. "You can really build a following there," says McGee, especially if you're the rebellious type — someone who's not going to follow a traditional teacher-training program no matter what anyone says. Bonus: That kind of devil-may-care attitude may be just what your brand needs.
Step 5: Ask for help. If the idea of becoming a yoga teacher seems overwhelming, just know that you have a community of yogis rooting for you. "The yoga community is very inclusive," says McGee. "They're accepting and they want you to be happy."
For example, if the cost of a teacher certification is too expensive, try partnering with a yoga studio. "A lot of them have payment plans or will exchange services, like working the front desk, with you," McGee says. Persistence is also important, says Tanner. If you love it, you can make it your life," he says.