Gym trends come and go, but the fervor for group fitness classes is showing no signs of letting up. (And the bar on creating dynamic classes with pulse-pounding playlists and calorie-blasting moves keeps getting raised.) So here's some good news: you don't have to perform totally on your own. "Every day we are bombarded with new gadgets and gear to make our workouts better," says Marc Megna, group fitness trainer and Partner at Anatomy at 1220 in Miami. Check out his top five sidekicks to help amp up your next group session.
1. Heart Rate Monitors
If your studio or gym can make the splurge, heart rate monitors can help clients hit their sweet spot of training even in group fitness classes. Checking in on how hard their body is working lets them know whether or not they should take that modification or rest period, or push towards the more challenging move, says Megna.
Best Bets: Polar H7 Heart Rate Sensor, Fitbit Surge, Garmin Vivofit



2. Playlist Generator
"Running group fitness classes is not just about the exercise you prescribe, but the environment created," says Megna. "A rocking soundtrack can go a long way towards increasing the energy in the room—what used to take hours can now be done automatically with some of these great apps."
Best Bets: Spotify, Pandora, Fit Radio
3. Virtual Classes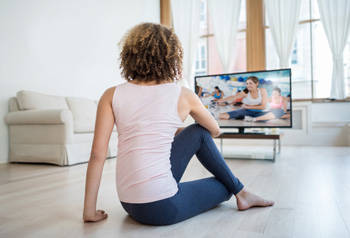 Give your clients a way to keep up with your classes, even if they're stuck in a hotel room or home with the kids. "There's definitely more people looking to get a quality workout (with that group energy) from a distance," Megna says. "And these days you don't need a huge infrastructure to get your workouts to the masses. Video record your best workouts and upload them (or stream them live) and voilà, global distribution."
Best Bets: YouTube, Periscope, Powhow
4. ViPR
Megna is a huge fan of the long, weighted tube to transform group fitness classes: "It's a unique piece of resistance equipment because the emphasis isn't on lifting the weight as much as it is shifting it. It improves coordination, muscular strength, range of motion, but can also work the fascia as well." (Warning: it takes a little more space to use a ViPR, so don't bring it out on super packed days.)
5. Sandbags
More resistance trainers are focusing on functional moves (ie: things you do in everyday life) to build more real world power, and the sandbag, an old favorite, is actually one of the most versatile group training tools, says Megna. "Sandbags are a great crossover between the weight room and the fitness studio." The thing isn't just heavy—as the sand shifts in the bag, clients have to work harder to maintain their balance. Our pick: The Beachbody PT Sandbag.