Being successful at personal training means a lot more than just drawing up workouts and watching people bench press. Teaching others—a great power—means great responsibility, too. To be one of the best in the business—the type of trainer who's in high demand (and who earns the highest rates)—you need to be more than just an expert on exercise.
"Training is as much an art as it is a science," says Jon Goodman, C.S.C.S., author of Ignite the Fire: The Secrets to Building a Successful Personal Training Career. "The importance of a sensational workout pales in comparison to a trainer's ability to get a client to want to do that workout and stay consistent with it. So great trainers need to also be great coaches that understand psychology and motivation just as much as physiology and biomechanics."
If that all sounds overwhelming, don't stress. We've tapped an elite crew of trainers to share their experiences in winning over clients and helping them get the results they've always wanted. If you're already a coach or a trainer—or if you're wondering how to become a fitness instructor of some sort—our guess is you want to become the type of trainer who helps people transform their bodies and their lives. We were right? Great—start here.

Step 1: Get Mental "Buy In" Before You Get Physical
"It's easier to convince a client to do something in the office ahead of time than on the gym floor [in the middle of a workout]" explains Goodman in his book. He says that spending a few minutes with a client talking through the day's training plan—and the exercises in it—will save you a lot of time once the workout is underway. Explain why you've included this group of exercises and how they'll help the client reach their goals. You can cover important things like proper form, and address any concerns they may have about how a move might affect an injury, imbalance or other body issue. By doing this you'll get your client to "buy in" to your plan for the day, and they'll be more motivated to give it their best effort.
Step 2: Build Workouts on "The Fundamentals"
Anyone with a fitness certification can tell you that a new "best thing" seems to pop up every five minutes. With so many training tools and techniques, you could make your personal training plan incredibly complicated. But "complicated" doesn't mean "good." That's why trainer and movement lecturer Dan John makes effective training simple by distilling workouts down to five fundamental human movements:
Push (exercises like push-ups or sled pushes)
Pull (pull-ups, rowing)
Hinge (Romanian deadlifts, kettlebell swings)
Squat (goblet squats or any other version)
Loaded Carry (farmer's walks)
Program your workouts so clients perform roughly even numbers of reps for the pushes, pulls and squats. "I like to see the weekly and monthly numbers to be almost equal. So if you do 75 presses, do 75 squats," John has written. "For many, it'd be wise to increase the number of pulls to undo the damage of years of being too 'pushy.'"
Step 3: Keep Your Cues Simple and Clear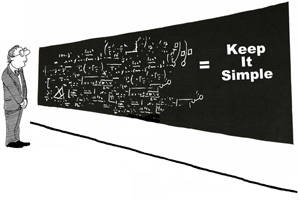 Personal training sometimes gets a bad rap because  lot of trainers try to look smart by using terminology straight out of a textbook when they teach. But when you're explaining how to do an exercise to someone, simple, shorter terms win every time. Use terms people know and understand, not complex exercise jargon. For example, personal trainer Nick Tumminello, author of Building Muscle and Performance: A Program for Size, Strength & Speed, eschews complex rep timing schemes (think: 4-0-X-0) in favor of a much more simple tempo guideline. If a set calls for five reps or less, he instructs clients to perform the lifting portion of the move explosively, and the lowering portion with slow, deliberate control. If the set is six reps or more, he tells them to be strict on their form throughout the movement.
Step 4: Know The Body and Its Breakdowns
Even Superman had a vulnerability. Your clients will, too. Nearly every person you work with is going to be dealing with some type of injury, instability, or other movement limitation. A big part of personal training is recognizing the issue and helping them make adjustments. "If you're a good coach, you understand the predictable patterns of dysfunction that most people present," says Jim Smith, CPPS and owner of Diesel Strength and Conditioning. "They typically have tight shoulders, a weak upper back, a weak core, tight hips or weak glutes. To be effective, you should have an arsenal of exercises to address those predictable patterns." Smith suggests you start by assessing how well a client can perform four key moves—bodyweight squats, push-ups, lunges and the overhead reach—and make adjustments accordingly.
Step 5: Praise and Show Progress with Numbers
We're all our own worst critics, and once we start making progress, it's easy to forget how far we've come. Everyone will have their own personal training success metrics. Even if your client's development is visibly evident—they're seeing declining numbers on the bathroom scale and more muscles when they look in the mirror—it's a good idea to explain their success in real-world numbers.
That's why you should take meticulous records of their work in the gym, and review it with clients regularly. "Take 5 minutes every 4 weeks to show them their results," suggests Goodman, who's put together a stockpile of advice for trainers at ThePTDC.com. "They'll be blown away by all the work that they've done." That feeling of achievement will keep them coming back.