Last month, our newest Beachbody LIVE master trainers gathered in Santa Monica, CA for "Newbie Boot Camp"—a weekend filled with inspiring presentations from industry experts, fitness certification discussions, peer-led workouts, and sneak previews of our newest spring apparel. Here's what a few of them had to say about the weekend:
"[Newbie Boot Camp] opened my mind to how much more there is to learn about the body and mind and inspired me to want to continue with learning new things that I then can share with my clients! There is always something I can be working on to be a better master trainer. I'm far from perfect, but excited to get better and better." – Lana Grytdal, Spokane, WA


"It inspired me to shine—shine bright around those I teach, mentor, or train—and to help others unleash their own light within and shine. As a master trainer, Newbie Camp reminded me to ABL—always be learning—and the importance of teaching instructors how to give the Beachbody Live experience to their students. XO." – Nina Montalvo Carr, Goodyear, AZ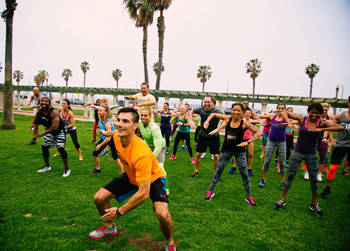 "The teamwork, camaraderie, educational sessions, and the pressure of being evaluated challenged me and inspired me to be more, do more, learn more, and grow more. I'm more confident in the field, and now I know what resources I have to help me improve as a fitness professional and master trainer." –Quen Spencer, Maumelle, AR
"My experience made me fall in love with customer service again. Simply put—I love talking to people. I've learned to be a problem solver, a great team member, and a leader. As a fitness professional, the skills boot camp gave me helped improve my previous experiences." –Ryan Carruthers, Ferndale MI
Feeling motivated to leap into your own training career or wondering how to become a fitness instructor? Before taking the plunge, make sure to ask the right personal training questions, and research all available certifications in the field.
If you're already an experienced instructor, there may be a master trainer audition coming up near you! We're constantly searching for the best and brightest group fitness leaders to add to our expanding family.