Trainers know that the right music can change your workout, provide a distraction from pain, increase your effort, and move you into "the zone".
With all the song choices, however, it can be hard to find the right beat for your workout. Most trainers spend hours cultivating the best playlist for their speciality, whether they teach Spin, HIIT, or mind-body classes like yoga or Pilates.
Looking for the best playlist for your specific workout? We asked our Beachbody Trainers and Master Trainers to share their favorite beats and types of tunes for each routine. Take a look. Then, of course, get groovin'.
The best playlist for: Low-motivation days
Choose workout beats from artists such as Diplo & Skrillex, Nicki Minaj, Meghan Trainor, and Steve Aoki.
"I love these artists for workout music because the vibe of the music naturally motivates you," says Chip Hoffa, an instructor at Grand Fitness in Miramar Beach, Florida. "Even when I need motivation to work out, I can put on my 'Pump Me Up Playlist' and it makes me want to move!"
Erin Scott, a Master Trainer from Fairhope, Alabama, likes to change it up too. It helps stave off boredom and motivates her to move.
"I mix up my playlists of artists a lot," Scott said. "On the other hand, I often can't go wrong with a little bit of Ska when I need to get moving."
The best playlist for: Strength workouts
Pick slow, steady songs with killer beats like "Centuries" by Fall Out Boy or "Till I Collapse" by Eminem.
"These songs make me want to keep grinding it out," says Katy Meuer from Denver, Colorado, who has been a Beachbody Master Trainer since 2010. "It may not be a super-fast song, but it makes you want to grit your teeth and push that weight."


The best playlist for: HIIT workouts
Songs with high energy and good base are great choices. Meuer recommends "Bad Man" by Pitbull and Robin Thicke.
"To me, the definition of a killer HIIT song is one that makes you push harder than you want to and go past what you think you can do because you are trying to keep up with the beat," Meuer says. 

Brian Sweeney of Raise the Bar Strength and Conditioning in Manassas, Virginia, chooses to listen to mostly techno for HIIT workouts. Although he doesn't recommend particular songs, he likes Deadmau5, Kaskade, and Skillrex.
The best playlist for: Warm-up, stretch, and cool-down sessions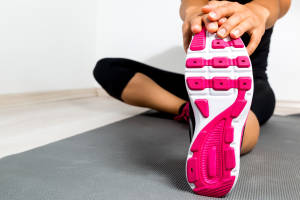 Diana Wright, a Beachbody Master Trainer from Scotland, chooses Motown when she's ready for stretch and cool-down sessions after muscles are already warmed up.
Other trainers go traditional, and choose pop, or R&B. Alicia Keys' "Girl on Fire," Of Monsters and Men's "Dirty Paws,", and "Roar" by Katy Perry are trainer go-tos.
Still need some inspiration for your playlists? Try checking out Spotify or YouTube where playlists for any kind of workout abound. Spotibot generates playlists based on a band name or artists. You can connect it to your Last.fm account to get a personalized list of suggested songs.
Or, if you want something that's more generic, choose Topsify, which brings you top-quality curated playlists that can be used immediately like Top 40 charts or playlists curated around your specific mood.