SIMPLE MOVES SET TO HOT COUNTRY HITS TURN UP THE HEAT AND MELT OFF THE WEIGHT!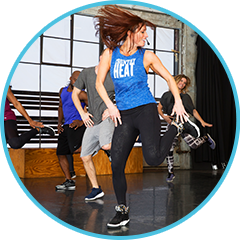 No complicated moves, no weights, no worries! Just follow along and you'll be dancing nonstop from the first step. The choreography couldn't be easier; just learn two steps at a time before moving on to the next two. It's so simple, anyone can do it!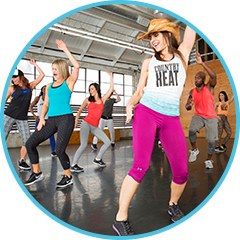 Wanna turn up the heat? Then turn on today's hottest country hits! Every class is packed with the best country music made famous by all your favorite artists. It'll keep you fired up from beginning to end.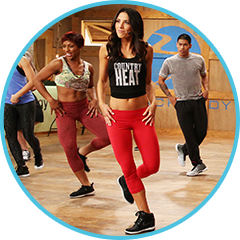 It's definitely a cardio-based dance workout—but you can just call it fun! You'll be moving, stepping, clapping, stomping, and having so much fun you won't even think about all the calories you just burned.
NO FANCY FOOTWORK, JUST A WHOLE LOTTA FUN!
If country music gets your feet tapping, then Country Heat LIVE will get your whole body moving! It's all about simple steps that turn up the heat, rev up your heart rate, and work your entire body, including your shoulders, arms, and booty. You'll have fun as you sculpt your body with moves like Bring the Heat and Trail Ride, or boost your coordination with moves like Cowboy Up, Saddle Jump, and Ride the Horse.
Whether you're a dancer or not, you'll love breaking it down to fun country tunes and easy, energizing moves!